Stay up to date with everything on Book Worm & More by
Subscribing to our Email.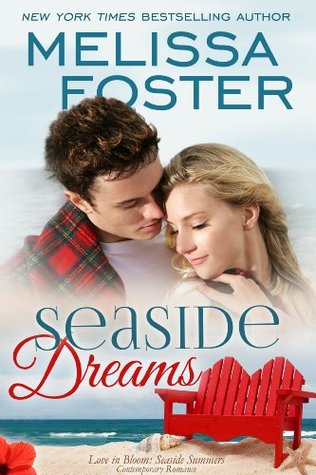 NEW RELEASE SEASIDE SUMMERS BOOK #1
The newest addition to the LOVE IN BLOOM series, featuring a group of fun, sexy, and emotional friends who gather each summer at their Cape Cod cottages. They're funny, flawed, and will have you begging to enter their circle of friends. You met them in READ, WRITE, LOVE, (The Remingtons, Book 5), follow these friends on their search for forever love in the Seaside Summers series.
SEASIDE DREAMS
Bella Abbascia has returned to Seaside Cottages in Wellfleet, Massachusetts, as she does every summer. Only this year, Bella has more on her mind than sunbathing and skinny-dipping with her girlfriends. She's quit her job, put her house on the market, and sworn off relationships while she builds a new life in her favorite place on earth. That is, until good-time Bella's prank takes a bad turn and a sinfully sexy police officer appears on the scene.
Single father and police officer Caden Grant left Boston with his fourteen-year-old son, Evan, after his partner was killed in the line of duty. He hopes to find a safer life in the small resort town of Wellfleet, and when he meets Bella during a night patrol shift, he realizes he's found the one thing he'd never allowed himself to hope for—or even realized he was missing.
After fourteen years of focusing solely on his son, Caden cannot resist the intense attraction he feels toward beautiful Bella, and Bella's powerless to fight the heat of their budding romance. But starting over proves more difficult than either of them imagined, and when Evan gets mixed up with the wrong kids, Caden's loyalty is put to the test. Will he give up everything to protect his son—even Bella?
SEASIDE SUMMERS are the newest addition to the LOVE IN BLOOM series
**CONTENT WARNING: Due to mature content, recommended for readers aged 18+**
Review:
Well, here we go again, another hot and steamy book from Melissa Foster. This time we are taken back to the Seaside Cottages and the fun loving girls living there. This time it's Bella's chance at love. She has also decided to change professions and to move to Seaside Cottages permanently.
Melissa Foster never disappoints and pulls her readers in from the very beginning. You become emotional invested in her characters, and can't wait to find out what happens to them. You won't be able to put the book down. Frankly, I'm kind of afraid that I've become an addict. I can't wait to get my hands on all of her books, and read them from cover to cover in one sitting.
I love that this time we also get to deal with a single parent, and the difficulties of raising a teenager. This seems to be so realistic with the difficulties of dating, and dealing with a teenager. I know that several of my friends are single parents. They have such a hard time focusing on themselves, and feel like that their whole life has to revolve around their child. I think Melissa does a great job of showing how important it is to take care of yourself, too. Kids, especially teenagers, need time to themselves but they also pick up on parents difficulties. We want to make sure that our kids take care of themselves when they grow up and not focus their entire being on someone else. Well, kids learn by example.
Anyway, as you've probably noticed, I loved this book. It is intended for mature audiences because there are definitely some hot and steamy scenes in this book. This book can be read as a stand alone but if you like this one, I would definitely read the whole series. I have so far. In fact, I can't wait to get my hands on the next one.
Melissa Foster is the award-winning author of a number of International
bestselling novels. Her books have been recommended by USA Today's book blog, Hagerstown Magazine, The Patriot, and several other print venues. She is the founder of the Women's Nest, a social and support community for women, the World Literary Cafe. When she's not writing, Melissa helps authors navigate the publishing industry through her author training programs on Fostering Success.
Melissa hosts an annual Aspiring Authors contest for children, she's written for Calgary's Child Magazine and Women Business Owners Magazine, and has painted and donated several murals to The Hospital for Sick Children in Washington, DC. Melissa's interests include her family, reading, writing, painting, friends, helping others see the positive side of life, and visiting Cape Cod.
Follow the author.....
Facebook
Twitter
Google+
Goodreads
Pinterest
Follow the Book Tour
ALSO AVAILABLE
Books 1 - 3 Snow Sisters, Love in Bloom Series #1 - 3
Books 1 - 6 The Bradens, Love in Bloom Series #4 - 9
Books 1 - 5 The Remingtons, Love in Bloom Series #10 - 14
Books 7 - 12 The Bradens, Love in Bloom Series #15 - 20
Books 1 - 4 Seaside Summers, Love in Bloom Series #21 - 24
NOW FOR THE AUTHOR'S GIVEAWAY !!
Five lucky winners will each receive Taken by Love ebook

the 1st book from the Braden cousins series
Ending on Sunday 28th September at 11.59pm EST
Open Worldwide
Enter Below & Good Luck !!